Building Our Backyard Oasis One Board at a Time!
My husband and I have always wanted to create a backyard space that we absolutely loved. Check out this post HERE about our previous home. As you can see, this has been one of our goals for a long time but has always been difficult because of HOA's. Now that we have no HOA, it's game on. Here's how we've started building our backyard oasis one board at a time!
Above Ground Pool
First step was installing an above ground pool. There are a few reasons why we went with an above ground.
It's way less expensive than an in-ground. Pools in general are ridiculously expensive, so this was a no brainer for us.
Our back deck is built up off the ground, so it really made sense to have the above ground and just add onto our existing deck.
They were able to get the pool installed quickly. This was a huge plus for us. After we closed on this property, our kids went to stay with their Grandma for a few weeks so we could work on the house. This gave us the opportunity to surprise them with a pool when they got home!
We had our pool installed by a pool company, but I would 100% not recommend them. I don't want to publicly bash them, so if you want to know the company just message me! Don't get me wrong, we love our pool but the whole experience was honestly terrible. My advice if you want an above ground pool, do your research. I had very little knowledge about pools and pool installations, which I regret not taking more time to learn beforehand. Knowledge is power, just remember that!
Phase One of Our Pool Deck
We like to call this phase one because we have lots of plans for our deck and backyard, so who knows how many phases we will end up with! We figured doing it in sections would be easier to manage both money and time wise. Plus, it is super hot out this time of year. We plan on adding more when it cools down, but we wanted to at least build enough to allow us access to the pool from our existing deck.
I'm obsessed with these deck gates! We also put one on the other side of this top deck and it's been a life saver keeping our dogs in. They can be outside and enjoy the weather without worry of them getting out or getting to the pool. It's so perfect. Plus now there is no more running through the grass to get to the pool!
Plans may change, but right now I don't think we are going to add onto this side of the deck. Originally we were going to take it all the way around the pool, but we just don't want to take too much away from the yard.
I'm the type of person who needs to sit with things for a bit to really get a good feel on how I like them, so time will tell what I'll want in the future. For now, this is such a cute little corner!
Final Result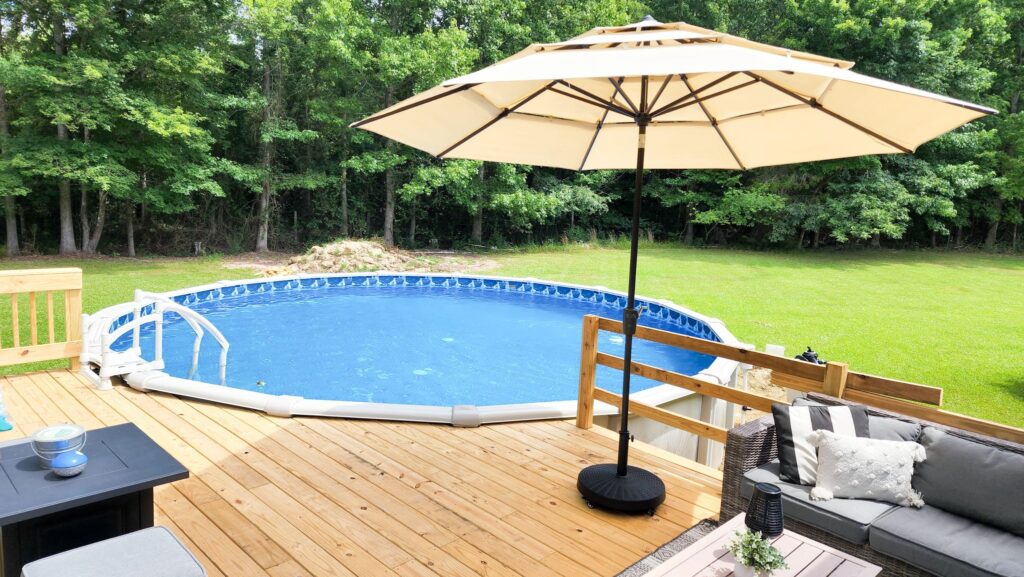 This turned out better than I imagined in my head. Huge shoutout to my MIL and her husband for helping mine with this build! To be honest, I had nothing to do with it. I helped a little with the design, but they did all the hard work. They seriously did such an amazing job!
You can see how we put a temporary railing up on this other side because this is the side we plan on adding onto. We want to be able to take the deck all the way down to our master bath window, which we will eventually turn into a doorway for access to a bathroom!
We now have space for our couch, a coffee table, fire pit, and a dining table! I found this cute little coffee table to warm up the gray couch and tie in our tan umbrella. It's the perfect brown/gray combo for this space. This couch set originally came with a small dining table that we now have on the top deck. I wasn't able to find a dining set this year since we are at the end of the season, but I'm hoping to find one next year!
I am just so happy we have room for all of our furniture because a lot of these things have been stored in our garage for the longest time. We are fully enjoying all of this space!
If you want to see our deck being built, make sure you go check it out on my YouTube channel.
I honestly used to be a person who needed instant gratification, and in some respects I still am, but I am learning so much living here. This is our forever, so we have the time to truly create a space we love and make it exactly how we want it. That's super exciting! Building our backyard oasis one board at a time is just the beginning of so much more, and I can't wait to continue sharing it all with you!
Which part of this build was your favorite?